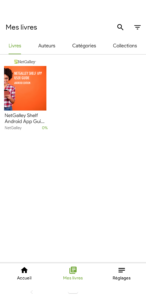 NetGalley Shelf is a book reading and listening app for NetGalley members. It helps publishers and authors promote digital copies for reviews and audiobooks to book advocates and industry professionals. Publishers make digital copies and audiobooks available to the NetGalley community for discovery, request, reading, and review.
NetGalley does not sell any content, including books or audiobooks. Each book on the app is provided to specific members, by the publisher, at no cost to the member. The books on the NetGalley site are used for review and promotion purposes only.
Once a book is downloaded, the member can customize their reading experience – including adjusting the font and font size, options for dark mode and different background colors, bookmarks, etc. Downloaded audiobooks can be listened to offline and have full controls to customize the listening experience – including a sleep timer, the ability to change playback speed, and easy ways to navigate to another section of the audiobook.
For who?
Read more by following the link below…
Si vous avez aimé, partagez le!