Merge Cute Pet is a merge game in which cute animals turn and bump in order to transform.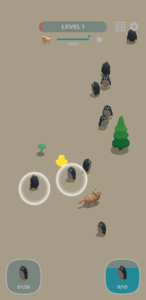 In terms of simplicity, this game is hard to beat. You have to match animals to create a variety of new animals, including cats, dogs, elephants and flamingos. To have animals to merge, you must summon them by pressing the "penguins" button. They then arrive as a duo and you just have to associate them. They transform into another animal which you will then have to pair up to have another animal, and so on. Does that sound boring to you? You ain't seen nothing yet.
The creators of the game had the brilliant idea of adding an automatism button. When activated, the animals automatically merge. No need to do it anymore. And it lasts about ten minutes. You just have to press the button allowing you to generate penguins. And when you reach a new level, you enter "Fever" mode. What does that do? It summons penguins without you having to do it, for 10 seconds. And you, what do you do? You look at your screen and let your battery drain without even having fun.
You can read more by following the link below…
Si vous avez aimé, partagez le!